TOYIN ADEBAYO, ABUJA
The Minister of Health, Dr. Osagie Ehanire has expressed appreciation to the Lions Club International (Multiple District 404 Nigeria) has identified with the Federal Government in its fight against COVID-19 by donating N3million to support the Ministry.
He made this known when the visiting Lions came to donated the money to the Ministry of Health.
Ehanire said that the donation the Lions called their "Widow's mite", "which is large" to him and the Management of the Ministry, "it is substantial in the eyes of those who receive it and the spirit behind it and for you to come to take part in what your country is facing, is very much appreciated."
The Minister painted the picture of the challenge his Ministry is facing: "We are facing what has been described as the greatest public health challenge which was not known some 6 to 8 months earlier. It has become very devastating not only to the health of many; going to 6 Million people worldwide now are affected, with a huge number of lives lost; Our country here is approaching 9, 000 with a large number of lives lost with many who are sick. And the frustrating part of it is that you have to be at your wits end because nobody knows where it is going or how it is going, we try to plot it."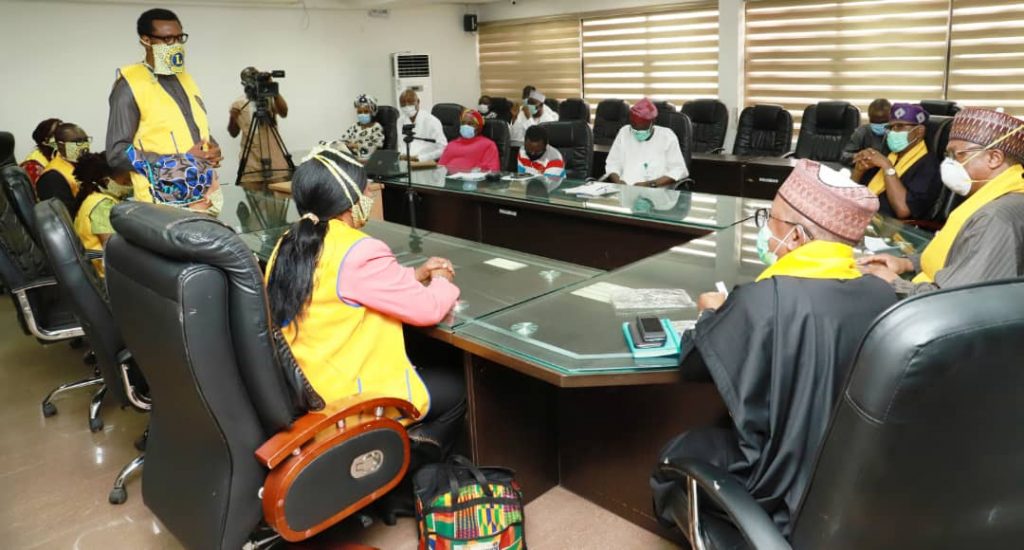 Ehanire said the reasons he gave are among others why assistance from anywhere or any person or group would not be looked down on but will be appreciated and reckoned for judicious application to wage the war on the pandemic.
Earlier, the Lions Club visitors have presented the Ministry with a cheque of N3 Million Naira which they said is made on behalf of the Nigeria Lions Clubs Foundation and the Council of Governors headed by the Multiple Council Chairperson Alhaji Abiodun Adediji, to the Federal Government of Nigeria in support of the fight against COVID-19.
Lion Lami Onayi Ahmed, the Past Council Chairperson, Lions clubs international Multiple District 404 Nigeria who led in the visitors to the Management of Federal Ministry of Health gave a rundown of the Lions Clubs International. She said Lions Club is a charity, non-governmental organization founded by Melvin Jones in 1917 in Chicago USA.
The Organization, she said, has spread to over 210 countries of the world and geographical location with membership of over 1.4 million across the globe.
The Lions Club Leader also gave the thematic areas of her Club to include helping the impaired to have back their vision; addressing issues of Diabetic patients; Childhood- cancer; addressing issues of Hunger; issues of Youth, Environment and Health sensitization.