TOYIN ADEBAYO, ABUJA
The Federal Capital Territory (FCT) Ministerial Enforcement Task Team on COVID-19 restrictions has arrested twenty seven (27) Violators of the interstate travel ban in Zuba , a boarder town to Kogi , Kaduna and Niger states.
The 27 travellers were hidden in Dangote trucks, conveying bags of rice and onions from Zaria in Kaduna.
It was revealed that, luck ran out of the travellers when men of the FCT enforcement team insisted on seeing the content of the trucks.
They were latter arraigned at the Zuba Mobile Court, where the presiding Magistrate, Ebiwari Damini convicted the driver, Olalekan Wasiu and other passengers for violating the ban on interstate travelling imposed by President Buhari to contain the spread of the deadly coronavirus.
Unfortunately, unlike the previous sentences, the magistrate who fined the driver five thousand Naira (N5,000) ruled that the Dangote company's truck used to transport the violators be impounded until after the interstate travel restriction is lifted.
He also ruled that those caught should be guided out of the FCT to the place of departure.
Speaking to newsmen, after the judgement, the Chairman of the FCT Ministerial Enforcement Task Team on Covid-19, Comrade Ikharo Attah, lauded the verdict by the magistrate, saying that it would deter violators of the interstate travel ban.
He stated that, , "Now that the truck drivers know that whenever they are caught transporting people from one state to another, their trucks would not be released, they would stop such act"
Attah appealed to Nigerians to be mindful of their health", decrying that "A situation in which people are hidden in between bags of onions in trucks and covered with tarpoline, as it is in this case, is not good for their health. Some even hid on the floor of trucks carrying cattle, which is also not hygienic."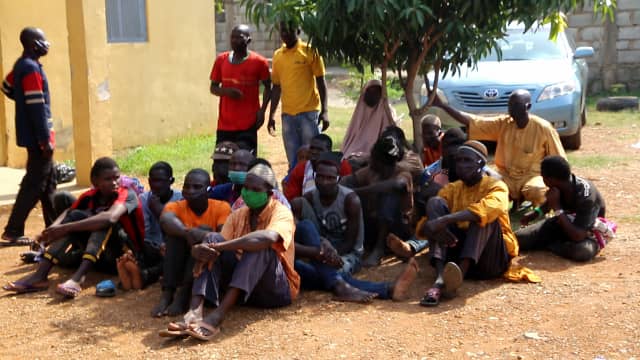 He also warned Management of Dangote company, who are the owners of most of the trucks used for this illegal act must do all to ensure their trucks which are meant for haulage of goods are not converted to be illegally transporting persons from one state to another, thus violating the lockdown directive of the president".
Speaking while pleading for mercy, the driver of The Dangote truck, Olalekan Wasiu admitted that after delivering items in Zaria, he was hired by someone to convey food items to Edo State, adding that he had to carry passengers to increase his profit.
In a related development, a mobile court sitting at Dei-Dei also cconvicted two buse drivers who were coming from Minna, Niger State for violating the same travel ban. They were fined by the magistrate who also ruled that they be returned to Niger State where they came from.