…As Army Donates PPEs To FCTA
TOYIN ADEBAYO, ABUJA
Malam Muhammad Musa Bello, the Minister of the Federal Capital Territory (FCT) has appealed to Nigerian Army to help enforce the ban on interstate travels in and out of the FCT, to ensure that the successes recorded so far in the fight against the COVID-19 pandemic in the FCT are not eroded.
He gave this appeal on Wednesday while receiving delegation from the Nigerian Army Headquarters, who were on a visit to present Personal Protective Equipment (PPEs) to the FCT Administration, adding, the fight against the COVID-19 pandemic was at a very critical stage and required the support of the army to proceed further.
He further stated that, "We have now reached a phase in the fight of the pandemic that is very critical, particularly for us in the FCT. But for us to be able to sustain the efforts, we would like to appeal to the Army High Command to continue to support us, with respect to the lockdown enforcements within the Territory itself, especially at the entry and exit points of the Territory."
Bello, however, explained that it was necessary to enforce the ban on interstate travels to ensure that those who are infected within the Territory do not spread the virus if allowed to leave and those infected from outside the FCT do not infect residents if allowed to come in.
The minister on behalf of the FCT Administration also expressed appreciation to the Nigerian Army for the Personal Protective Equipment donated to the FCT saying that the PPEs received will go a long way in supporting the frontline medical officers who have been working tirelessly over the last six weeks to fight the pandemic.
He also acknowledged the tremendous cooperation and support that the FCT Administration has been receiving from the Nigerian Army in the areas of enforcement and security related activities.
Earlier while presenting the PPEs on behalf of the Chief of Army Staff, Lt. General Tukur Buratai and the Nigerian Army, the leader of the delegation, Maj. General H.I Bature, Chief of Civil – Army relations, Army Headquarters, Abuja, assured that the Nigerian Army is always willing to support the Administration's efforts at curbing the threat of COVID-19 in the country.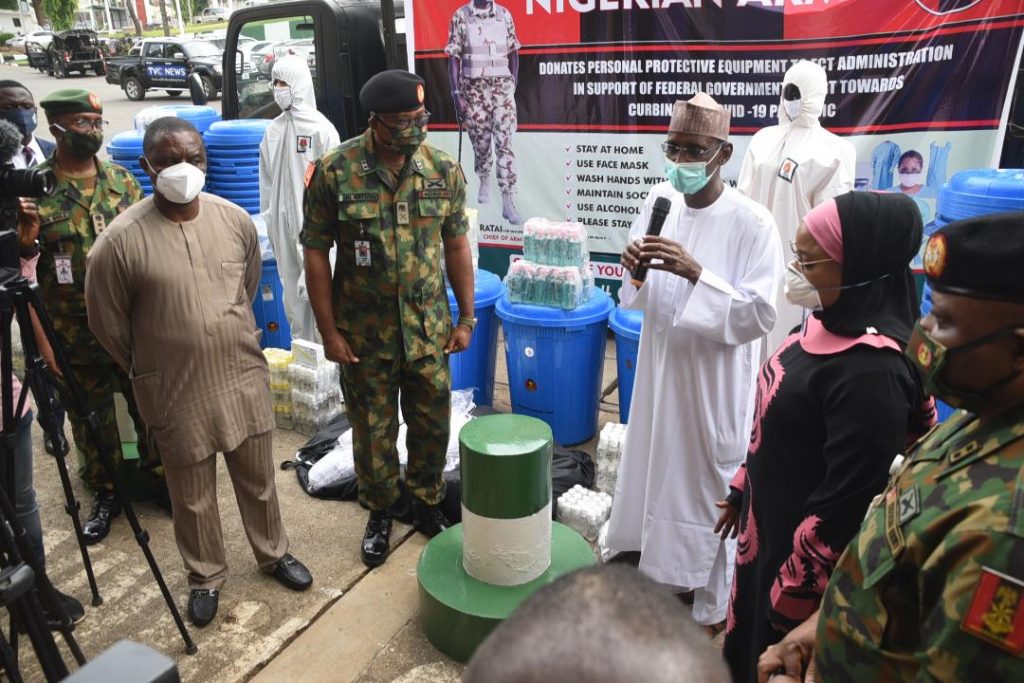 Maj. General Bature further explained that the donations were part of the Corporate Social Responsibility (CSR) efforts of the Nigerian Army as well as the continuation of the drive towards strengthening the civil/military relationship in the Federal Capital Territory.
Items donated to the FCTA include personal protective suits, face masks, hand sanitizers, hand gloves and buckets.
The delegation was jointly received by the Minister of State, FCT, Dr. Ramatu Tijani Aliyu, Permanent Secretary, Sir Chinyeaka Ohaa as well as other top officials of the FCT Administration.